Flight Rising
in the single hour it was open for new registrations last week (Thanks to B registering an account for me since I was at work).
Anyway today my first clutch of eggs hatched. Obvious all basic/basic/basic plentifuls but here they are.
Mirror - unnamed - female - Platinum/Grey/Green. For sale in AH for 8500 treasure. Friend's price 7k treasure.
Mirror - unnamed - female - Blue/Shadow/Jade. For sale in AH for 8500 treasure. Friend's price 7k treasure.
Fae - unnamed - female - Sky/Ice/Green. For sale in AH for 15000 treasure 10500 treasure. Friend's price 10k treasure 8k treasure. I mean come on, she's an absolute beauty.

SOLD!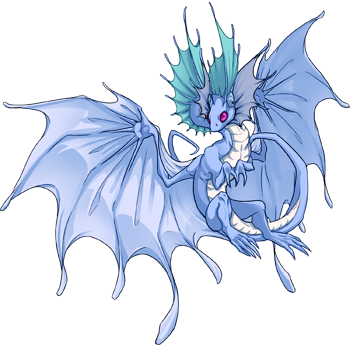 Fae - Tarian - male - Red/Platinum/Emerald. Not for Sale.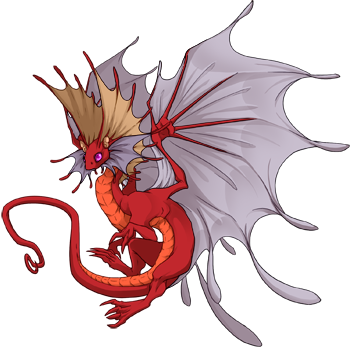 I based the prices on mooching around the auction house and seeing how much fae and mirror hatchlings were going for. If anyone wants one of the three for sale tell me and I'll yank them quickly. And if you're on Flight Rising and we're not friend's yet -
this is me
.
So I was lucky enough to get an account on
Current Mood:

awake
The second intelligent species I only found about last night when I was wondering why they initially had problems agreeing with humans about what plants and animals are. When I initially realised what I had my first thought was "argh it's a triffid" so I set to work to make sure they actually aren't triffids. So it's fair to say they
don't look like this
.
Anyway on with the post:
---
I am currently trying to design an ambultory, intelligent carniverous plant that isn't a triffid ripoff
On my sulphuric acid world there's a whole kingdom of mobile plants (as well as animals and more normal plants).
The mobile plants have actually evolved something like a nervous system (unlike earth plants) and this has formed something more like a terrestial cordate CNS (protected by a woody skeleton) than the animal sulphies have. This woody skeleton is made of internal tubes of their equivalent of xylem.
(There's two intelligent species on sulphuric acid world - the plant one and the animal one).
Anyway plant sulphie 'brain' is found in a woody capsule under their digestive organ which is at the top and is like a pitcher (into which they feed their prey directly. I think they are not immediately recognisable as plants to humans and possibly look more humanoid than the animal sulphies (which are four legged, feathered critters with tentacles as manipulatory appendages) though even the plant sulphies don't look at all human but they are bipedal with an obvious "head".

They also photosynthesize (well they are plants) but due to their mobility they can't get enough energy that way.
(The animal ones descend from a cuttlefish like critter so while they do have an internal skeleton it's not like a vertebrate's.)
Plant sulphies can either reproduce by exchange of germ material (which is mediated by a symbiotic species like many plants on Earth) or clone themselves naturally via cuttings.
I don't know if they have eyes. I think they use photoreceptors all over their body and they communicate via a combination of scent and sound meaning their language is very difficult for other intelligent species to learn.
The animal and plant sulphies did not at first realise the other was intelligent and preyed on each other but seem to have realised about the time both species developed agriculture. Almost all Sulphie religions have myths about this
By the time they contact Earth (to buy Venus for bioforming) they've been living and working together for millenia and the plant sulphies have various sound only creoles they use to talk to the animal ones.
A shared characteristic of both species is that since they have no access to metal they grow a lot of their technology though they also have glass and ceramics. (Yes, this means they have living spaceships – advanced biotech is surprisingly common among aliens in this universe because of the number of worlds where metal is either not extractable (no free oxygen) or impractical due to rapid corrosion (acid worlds).
So I'm not sure how coherent this post will be since it's a slighltly tidied up stream of consciousness from where I was talking to a friend on Twitter about the second Intelligent species on my Sulphuric Acid World.
Patreon
.
This article
to be precise. Now it, like most of the other articles about Patreon, indicates that the site is for Youtube (and other video content) creators but a quick look at the site's about page (linked above) indicates it's for any regular content creators including writers and webcomic creators. And to back that up here's
a video about it
.
So yeah, the idea is that people back you for an amount for each piece of content you create - which seems great for us serial writers. I haven't tried it yet but I can think of some definite pros and cons already.

The biggest pro is that unlike a paypal subscription people only pay when you create so fans won't feel cheated if you have a bad month.
The biggest con is that you need a crowd to make money just like with Kickstarter and IndieGoGo - but then that's always true. No fans = no money and since Patreon is long term you can start small and scale up.
The way I figure it the worst that can happen is no one backs me (in which case I'm no worse off) and it could pay for the website costs which come to around £130/year and which I had to pay again just this weekend *falls over*.
If I can work out some perks I might try it and report back, but not until I've finished fulfillment on The Storm Child IndieGoGo campaign. (Well most of it - the Christmas cards go out in Late October and book 3 when it's done).
What do peeps think? Is Patreon a good idea? What perks could I go for?
So this morning I was mooching around on Twitter (instead of doing housework or writing like I should have been) when one of my tweeps who posts links to content about crowdfunding linked to an article about
Current Mood:

thoughtful
This is for the same world as Mountain/Sea (now named Anjaran temporarily - once I work out how they'd form it the end will likely change) and Island (which I have basically thrown out and started again on - more soon).
Ez
æ
rin is the language of another seafaring people who will appear in the same story and who come from further south (since Fantasy World One's major landmasses are southern hemisphere this amounts to them being from temperate or arctic climes). I don't have much detail on them yet.
Consonants

m

n

ɳ

ŋ

voiceless

p

t

ʈ

ȶ

k

ʔ

voiced

b

d

ɖ

ȡ

g

voiceless

ts

ʈ͡ʂ

t͡ɕ

voiced

dz

ɖ͡ʐ

d͡ʑ

voiceless

s

ʂ

ɕ

h

voiced

z

ʐ

ʑ

ɹ

ɻ

w

Lateral

l

ȴ
Vowels:

Front vowels

Back vowels

Unrounded

Rounded

Unrounded

Rounded

High

i • ĩ

y • ỹ

u • ũ

Mid

e • ẽ

ø • ø̃

o • õ

Low

æ • ǣ

œ • œ̃

a • ã
Tilde (or macron is the case of ash) represent nasal vowel.

Not sure where the underlining comes from as it's not in my notes and I copied and pasted.
Phonotactics:
(C)V(C)(C)
Possible consonant clusters are fricative + stop or affricate and approximants (including laterals) + obstruent.
The vowels are nasal immediately before or after a nasal consonant in the same syllable (fixed allophony) and sometimes at the end of a syllable (where it has grammatical function).
Stress is on word root.
That's all I have for now. Any thoughts?
And I'm telling myself it really only needs to be a naming language.
here
these people do not have a word for horse yet but checking my timeline I realised they will be encountering them soon so I thought I'd deal with them. The horses they'll be encountering at this point belong to a nomadic race who end up migrating into my people territory and are actually large ponies in size and probably conformation. To my people they look a lot like donkeys and are around the same size. It's no wonder they think of them as a sort of donkey and call them "small-eared donkey".
So how do we say that?
Ear is
petap

ʰak
(note: this only applies to lugholes not cereal ears) and so a small ear is
petap

ʰr

ē

p

ʰak
. As an adjective that is
petap

ʰr

ē.


So small-eared donkey would be
rekklap

ʰak
petap

ʰr

ē.


Of course that's a bit of a mouthful
so it's entirely possible they'll just call them donkeys most of the time.
I wonder how long it'll be before they discover mules...
As I mentioned
haikujaguar
—
has had one of her novels "Spots the Space Marine" taken down by Amazon because Games Workshop have claimed trademark infringement.
Check out her post on the matter:

In Which Games Workshop Accuses Me Falsely of Trademark Infringement
One of my tweeps the wonderful author
Current Mood:

angry
First Person Singular -
Ke
First Person Dual Inclusive (me and you) -
Kela
First Person Dual Exclusive (me and a third person) -
Kedo
First Person Plural Inclusive (us and you) -
Kema
First Person Plural Exclusive (us not including you) -
Kede
Second Person Singular -
La
Second Person Dual -
Ledo
Second Person Plural -
Lot
Third Person Singular -
Dom
Third Person Dual -
Dabo
Third Person Plural -
Det
Rather sleepy so more tomorrow. Does anyone have any thoughts on woords they'd like.
This is my first attempt at the personal pronouns. I'm not to sure if they work (I think they may be a little similar) so feedback is welcome. These are the roots. First person never inflects for noun class and second and third only in formal situations. They do inflect for case as appropriate.
At the point in their history when they are speaking this language these people have only a few domesticated animals - the dog, the ferret, the goat, various poultry and the donkey - which is their primary beast of burden
Which probably explains why they get their verb for carry from their word for donkey.
Donkey -
rekklap

ʰak
gives rekklaot.

Their donkeys are
similar in size to the
Catalan Donkey
which is about as large as donkeys get and comparable with a large pony. As of this point they haven't encountered horse but once they their name for horse will mean "small-eared donkey".
Now on to the new booze.
They obtain milk from both their goats and their donkeys. The goat's milk is usually made into yogurt and
labneh (strained yogurt)
while the donkey milk is fermented into a drink that's similar to
Kumis
(
donkey's milk
having a very similar make-up to mare's milk) which is the primary drink of children because it's lower in alcohol than mead or beer, is nutritious and safer than water.
The name for this drink is
kisatago
from
kisap

ʰak
meaning milk (they consider milk animate - in retrospect I think honey/blood should be amadp
ʰak not
amaddzla). I'll sort out their words for goats, yogurt and labneh another day.
Note to self - get all these words into the lexicon pronto.
And it's all to do with donkeys - yes even the booze.
this post
many (but not all) comparatives such as big and small are handled by adjectives in English are infixes in this language (in much the same way that we sometimes use -let as a suffix to indicate smallness in English)
Other adjectives are seperate words and appear immediately after the noun and behave very like nouns but not exactly. They decline for case (to match the noun they describe) but do not take a gender (which I suppose makes them a noun class as well).
That decided we can do our first five colours.
Black - kratak (also means dark)
White - ekra (also means clear)
Red - amad
Green - yonet
Yellow - orem
No, it's not a coincidence that ekra is the root of water and amad is the root of blood/honey they name the colours by association. So these words might literally be seen as the adjective class forms of night (kratakago), water, blood/honey, leaf (yonetp
ʰak)
and ripe grain (oremp
ʰak)
respectively.
Yes they think of night as spirit, they can't touch it but its certainly real so it makes sense to them.
As I mentioned in